First NewLaw firm in New Zealand
19 July, 2016
lexvoco is the first NewLaw firm in New Zealand, entering by crossing the Tasman. While this might not necessarily be regarded as noteworthy, the speed with which lexvoco is spreading is truly remarkable.
The announcement that lexvoco has entered the New Zealand market, long regarded by many NZ BigLaw firms as largely immune to the sweep of globalisation. Congratulations to Anthony Wright and the lexvoco team on being the first NewLaw firm to cross the Tasman sea.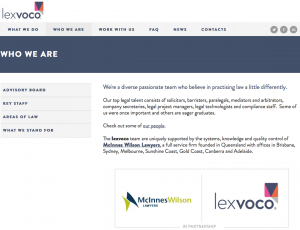 It's worth noting that lexvoco is part of the McInness Wilson Group, which includes a mid-size Australian BigLawfirm that is remaking its business model. McInness Wilson was amongst the first to pursue the remaking journey in this way.  
And it's worth checking out lexvoco's What we dopage which shows a combination of services for companies with and without in-house law departments:
"1.  We provide top legal talent to legal teams when they are under-resourced or there's a skill gap.

2.  Our legal and management consultants also help with strategy and continuous improvement for legal teams.

3.  We advise organisations who can't justify employing an in-house lawyer, but they'd like the commercial understanding that comes with an in-house counsel.

4.  We create and build technology, systems and processes to help in-house legal teams."
 lexvoco footprint
If NewLaw firms of the lexvoco variety have footprints, it's noteworthy that the firm is already operating throughout Australia, countries in Asia, United States, UK, South Africa, UAE, Poland, France, Netherlands, parts of South America – and now New Zealand – after only two years.
Well might one ask, where next lexvoco?
F
ifth significant NewLaw move reported by beaton 
This the fifth significant NewLaw move reported by beaton in the NewLaw space in as many months. We have reported on the others and aspects of their significance:
+ Now it's Norton Rose Fulbright and LawPath
+ DLA Piper–LOD alliance in Australia will boost NewLaw
+ The third major NewLaw announcement in three months: Clients win
+ Further NewLaw industry consolidation
2 Responses to First NewLaw firm in New Zealand
Mike O'Horo says: 20 July, 2016 at 1:53 am

At the risk of being the hammer, to which everything appears as a nail, my comment is, "NewLaw, OldSales." I haven't seen a meaningful shift in law firms' sales approaches in the US. What of Australia/NZ?
Dr George Beaton says: 20 July, 2016 at 5:58 am

Mike

Most, if not all, NewLaw firms in A&NZ are certainly adopting new ways in separating sales and production functions.

But I see very few signs of BigLaw firms thinking and acting in the same direction. To my knowledge, just two of the largest firms have each appointed one 'salesperson' (not a 'BD person in a support role'.)
About the author
george.beaton@beatoncapital.com
+61 3 9829 0011